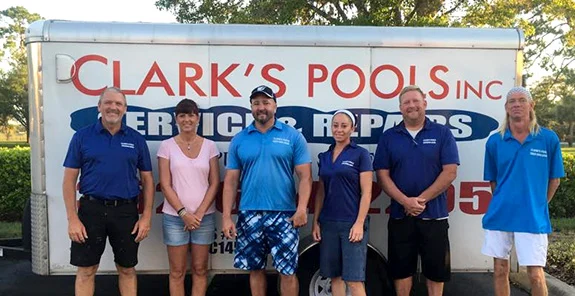 About Us
Jim Clark moved to Spring Hill in 1978 at the age of 10. His grandfather was a home builder in Hernando County at that time. He grew up around construction. In 1983, while still in High School he started working at a local swimming pool store and found his calling. In July of 1989 Jim obtained his own contractors license. In July of 1998 he opened his own business, Clark's Pools, Inc. for customers in Brooksville, Spring Hill, Sugarmill Woods, Hernando Beach, Lake Jovita & select Hudson, FL. For over 20 years Jim has continued to successfully operate Clark's Pools, Inc. in our area. Jim still works in the field on a daily basis repairing pool equipment.
Clark's Pools also offers weekly pool cleaning packages
We offer a basic package and a premium package that includes the use of our salt system.
Call Now
Jim has proudly been serving Hernando County for the past 20 years. No matter if you're looking for long-lasting swimming pool cleaning services or pool pump installation, you can rest easy knowing that you've made a smart choice coming to Clark's Pools, Inc. for help.
It's our duty and pleasure to keep your pool running smoothly for as long as possible and to increase its longevity so that you can enjoy it to the fullest. We've been serving all of the swimming pool needs of the people since 1998, so you can rest assured that we are experts in our industry. Contact us today!